When Spring starts to come around do you reach for lighter yarns and look forward to projects for lightweight layers? We enjoy seeing the yarns Fairmount Fibers sends out into the the hands of designers that are showcased in the pages of pattern magazines. The Spring and Summer issues, available digitally or on your local newsstand, have a lovely variety of patterns featuring Serena.
The latest issue of knitscene includes the Argon Tee by Monika Sirna. The fabric created by the combination of Manos del Uruguay Serena and Manos Lace combined with the flattering shape makes this top one you will want to wear daily. Depending on size, you will need 3 to 4 skeins of Serena in the main color choice, 1 skein of Serena in a contrasting color, and 1 to 2 skeins of Lace in a coordinating color. The purples with the pop of S2020 Curry are very on trend, and we look forward to the color combinations you select!
Bristol Ivy designed the Folded Lace Tank in Serena for the latest issue of knit.wear. This tank combines the drape and fall of a classic Greek chiton with a wearable, modern shape. The folds of the fabric create an A-line silhouette, and the touch of lace hidden inside the pleat adds a feminine touch. Depending on size, 4 to 6 skeins of Serena are used.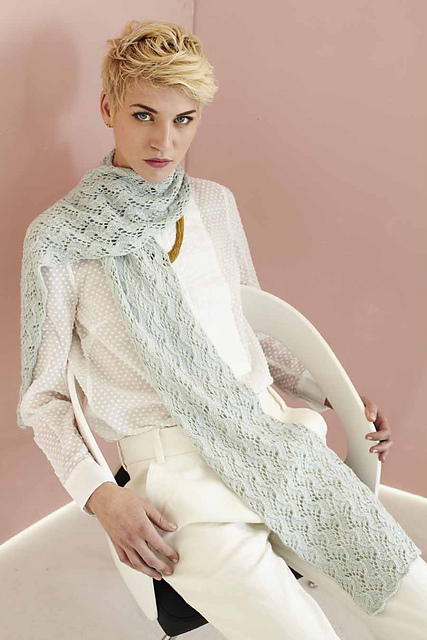 The Wave Lace Scarf design by Wei Wilkins in the latest Vogue Knitting makes the most of one skein of Serena. Scarves are equally fashionable and functional. The baby alpaca and pima cotton blend found in Serena makes this a season-spanning accessory!
Serena is proving to be a top choice of knitters and crocheters this season – have you cast on with it yet? We'd love to see your projects and we encourage you to share a link to your blog or projects here in the comments, on our Facebook page, or in our Ravelry group!