Late Fall Pattern Round-Up in Manos Yarns
Whether you are in the midst of gift knitting, or are looking for a new project to treat yourself, there are a number of new patterns to consider! These designs cover a variety of skills and include many of the Manos del Uruguay yarns. We can't wait to see how you make them your own! 
Hui Wang Harbich's Malachite is magical! This pullover features a fantastic forest knit in two colors, and inhabited by multi-colored beetles. Alegria in Toy Soldier and Black are used for the body. Custom, limited-edition Fino Mini-Skein sets in Alice and Blanche are used for duplicate-stitching the beetles. The pattern is part of the new Winter 2021/22 Vogue Knitting. 
Textures collide in the stunning triangular Trigon Shawl designed by Shannon Lynn Brown. Diagonal lines of lacy yarnovers section off smooth stockinette triangles from their twisted-stitch counterparts, creating a well-balanced graphic design. Four skeins of Feliz, shown here in Copper, are called for in the pattern, published in Wool Studio Volume X. 
The Winslow Park Cowl is a DK-weight, cozy neck warmer featuring 5 colors and some fun (but still easy!) techniques. Designer Elizabeth Smith chose five colors of Silk Blend in a stunning palette: Marzipan, Topaz, Kohl, Silver, and Wedgewood.
The Borrowed Scenery Hat is our newest free pattern. This is a two-skein project with a touch of colorwork - a fun way to play with space-dyed and semi-solid colors of Silk Blend! Clafoutis and Opera are shown here.
Taking its cue from the Dovetail Sweater, the Dovetail Hat uses Alegria Grande Bocados to work up a delightful colorwork pattern in 3 colors! This free pattern includes two sizes, and the addition of the pom on top is up to the knitter. Above left, size Medium shown in Mauve (MC) with Magenta (A), Cactus Flower (B), and Oceano (C). Above right, size Large shown in Sand (MC) with Juanita (A), Tahiti (B), and Turmeric (C).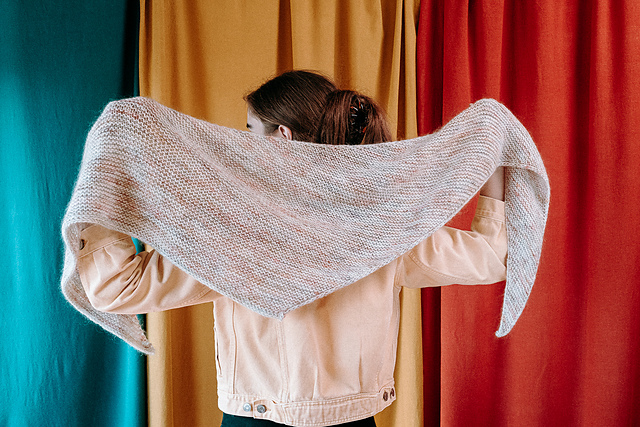 The Meadowgrass Shawl is knit with one strand of Fino, our lustrous silk and wool fingering-weight yarn, and one strand of Cabrito, a laceweight kid mohair blend. Knit at a larger gauge, this shawl has an effervescent sheerness: it's drapey with an almost velvety feel thanks to the two yarns held together. Meadowgrass is knit in one piece with alternating stripes of different colors of Cabrito to get a gorgeous watercolor effect. Shown here in Ivory Letter-Opener Fino with Aloe and Meadow Cabrito. Bonus, this pattern is also free! 

As always, we are here to cheer you on from cast-on to cast-off and encourage you to tag us in your photos on Facebook, Instagram and Ravelry!